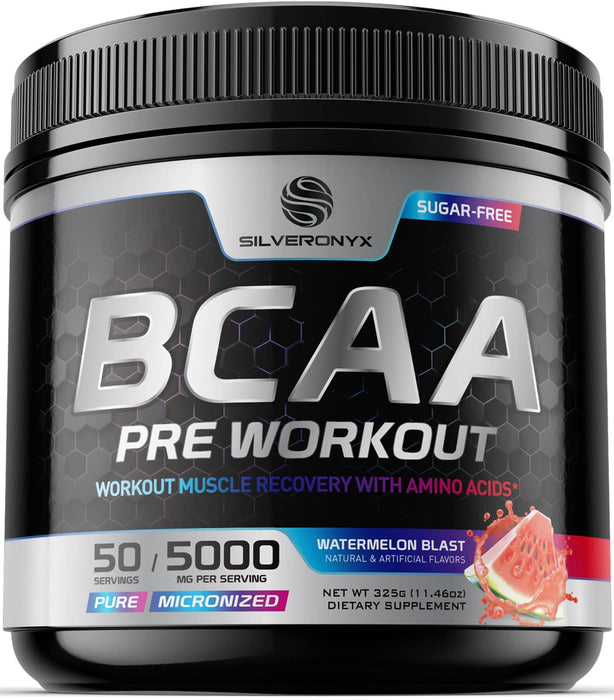 BCAA Powder Watermelon - Sugar Free Post Workout Muscle Recovery & Hydration Sport Drink with Branched Chain Amino Acids - 2:1:1 BCAAs Amino Acids Energy Pre Workout Powder Men & Women - 50 Servings
SilverOnyx Original BCAA Powder Watermelon
Sugar Free Post Workout Muscle Recovery Drink with Amino Acids
4g BCAAs for Men & Women
50 Servings 4g BCAA amino acids branched chain amino acids.
BCAA Powder 2:1:1
Instantized BCAA powder supports muscle recovery & endurance.
Keto friendly branched chain essential amino acids BCAA powder sports drink for hydration & recovery.
BCAA Sport
Pre workout with BCAA, amino acids, keto friendly sport BCAA powder for recovery & hydration with amino acids.
Sugar-free intra and post workout powder & recovery drink amino energy powder mix.
BCAA Amino Acids: Our BCAA drink mix has the optimal 2:1:1 ratio to support your workouts and is great for staying hydrated
Delicious & Sugar Free: Amazing Watermelon flavor that tastes great without sugar or carbs
Muscle Recovery Support: Our mix includes 1000mg of Glutamine to support muscle recovery post workout
Trusted & Third-Party Tested: Our BCAA is bottled in the USA following strict cGMP guidelines; Our BCAA Powder is third-party tested for quality and purity
SilverOnyx BCAA Powder 211 Sugar Free Pre Workout Drink Mix: Watermelon flavored BCAAs 50 Servings; 5000 MG with Glutamine; Branched chain amino acids for men and women; Sport aminos acid supplement after or intra fitness aminoacidos lean bcca best branch bulk energy hydration support muscle nutrition post original recovery support ripped keto friendly supplements