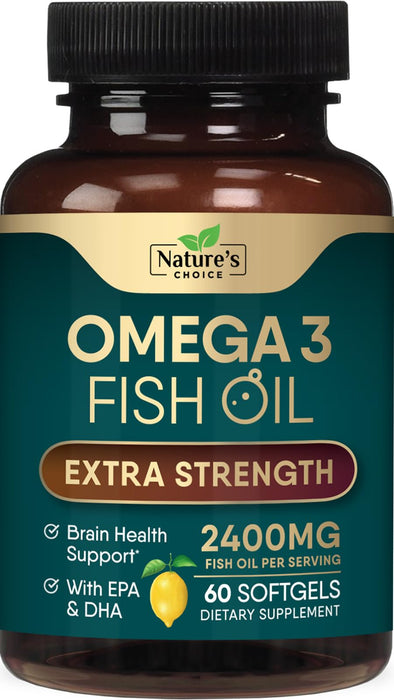 Omega 3 Fish Oil Supplement
Fish Oil Supplements
Fish Oil 2400 MG Softgels Rapid Release
Omega 3 supplement for heart health support, brain support, & immune support for men & women.
Triple Strength Omega 3 Fish Oil
1440 mg omega-3 with EPA & DHA fatty acids for optimal support.
Our omega 3 fish oil 2400mg capsules are also gluten-free & non-GMO.
Omega-3 EPA DHA Fish Oil
Omega-3 fish oil supplement with EPA & DHA.
Omega 3 supplement fish oil soft gels, extra strength with high EPA 864mg & high DHA 576mg.
Omega 3 Fish Oil Softgels by Nature's Choice with Triple Strength DHA and EPA
Ethically sourced from wild caught, omega rich open sea fish, our Omega 3 softgels are a convenient way to add 2,400 milligrams of concentrated fish oil to your daily routine.
We carefully extract our oil from wild caught "fatty fish" like Peruvian anchovies.
Our softgel supplement has the optimal ratio of the essential fatty acids; EPA & DHA.
Omega 3s are Essential for Everyone
Skin Support
Supports Heart Health
Brain Health Support
Supports Joint Health
Eye Health Support
Omega 3 Supplement: Our Omega 3 Fish Oil supplements contain essential fatty acids Omega-3 EPA DHA to provide natural heart support & brain support for adults; better absorption and ethically sourced
Extra Strength: 2400 MG Fish Oil; High Omega 3; High EPA; High DHA
Premium Quality: Premium ingredients without unnecessary filler
Trusted Formula: Our Fish Oil Omega 3 supplement is third party tested for quality & purity; Each softgel is from ethically sourced fish
Omega 3 Fish Oil Supplement from Nature's Choice: Fish oil High EPA; 2400mg Fish Oil High DHA Supplements capsules triple strength natural fatty acid from fish oils acids pills for brain support and heart health support lemon flavor burpless for humans adults men and women fishoil women vitamins krill softgels 2400 mg mini natures omega3 oul omaga3 omegas vitamin aceite de pescado