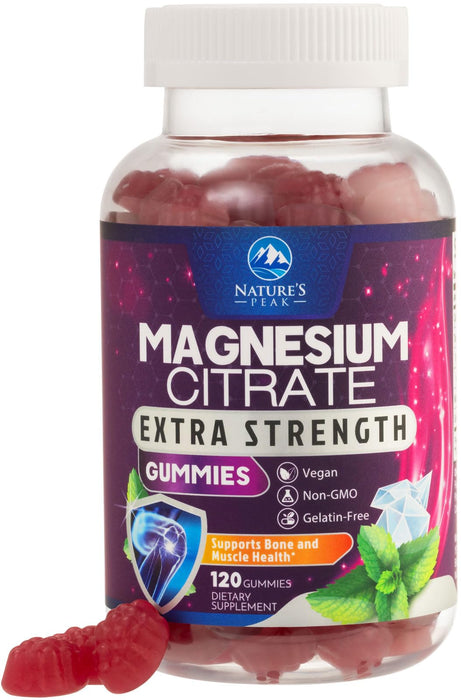 Magnesium Gummy - High Absorption Magnesium Citrate Supplement for Adults & Kids - Calm Magnesium Gummies Dietary Supplements - Bone Support & Heart Support
High Absorption Magnesium Citrate Gummy
Magnesium Citrate Gummies
Magnesium citrate supports relaxation, muscle support, bone support, & energy support.
Magnesium Citrate is among the most bioavailable forms of magnesium, making it one of the best supplements for supporting relaxation.
Rest Support Magnesium Gummies
Non-GMO dietary supplement for natural muscle support, nerve support, bone support and heart support.
Magnesium Supplement for Health Support
Chewable gummies with magnesium that help to support wellbeing.
Health Support Gummies
Calm magnesium citrate supplement for health support.
Magnesium Gummies
Magnesium Supplements for relaxation support, health support, and bone support for adults & kids.
Calm Magnesium Gummies for Adults & Kids 4 and up
60 or 120 Raspberry Gummies
30 or 60 Day Supply
100 mg per serving
Did You Know
Nature's Peak Magnesium Gummies are great for supporting your overall health. Magnesium activates the enzymes necessary for a number of physiological processes, including muscle contraction. It also helps with muscle cramps, supports energy production, and plays an important role in supporting your daily health.
Magnesium Gummy: Our Calm Magnesium Gummies have Magnesium Citrate which is essential for cellular energy & can support a sense of calm
Relax Support: Supplements to support relaxation for adults
Chewable Magnesium Supplement: Magnesium Citrate gummies
Delicious Taste: Maximize benefits in a tasty raspberry flavored gummy
Magnesium Gummy by Nature's Peak: Extra strength chewable calm magnesium gummies mag citrate supplement nutrition, high absorption for women, men, adults, kids mg natural relaxation support supplements capsules complex chews best health vitamins calming pure natures bone support vitamin chewables chew gummie magnesio citrato gomitas