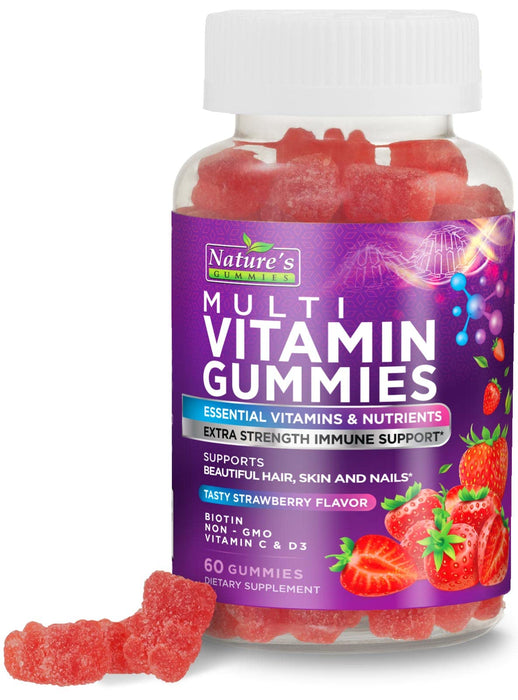 Multivitamin Gummies for Adults Immune Support Extra Strength - Natural Complete Daily Gummy Vitamin Supplement - Multimineral Multi with Vitamins D C & Zinc for Men & Women, Non-GMO, Berry - 60 Count
Nature's Gummies Multivitamin Gummies
Multivitamin Gummies Extra Strength Immune Support with Vitamins D, C, & Biotin
Our chewable multivitamins supplements are designed with biotin to support hair, skin, & nails.
Natural Complete Daily Gummy Vitamin Supplement
One servings is just two convenient gummies is non-GMO & made with no artificial flavors & no gelatin.
Gummy Multivitamins for Adults
Vegetarian multi vitamins B6 & B12 for women & men.
Our Multivitamin Gummies are formulated for daily consumption by adults; this product helps men & women get energy support & immune support each day.
Mens Health Support & Womens Health Support
Our supplement is great for womens daily multivitamins & mens daily multivitamins for adults 50 and over support, as well as all ages.
Multivitamin Gummies Extra Strength Vitamin Gummy
This natural daily complete supplement is a vegetarian Non-GMO Multi.
Natural Complete Daily Gummy Vitamin
Complete multivitamin gummy for women & men for daily nutritional support with 12 vitamins & minerals.
Multivitamin Supplement
Adult multivitamin & multimineral supplement with antioxidants, Zinc, vitamin D3, & B vitamins.
Trusted Quality
Nature's Gummies Multivitamin Gummies are third party certified for purity & quality by an experienced dietary supplement laboratory.
Complete Multivitamin Gummies: Our daily Multivitamin gummy provides the perfect mix of vitamins & minerals to support your overall wellness
Immune Support: Packed with Vitamin E & C for natural immune support for men & women
Hair Skin & Nails: Biotin & folic acid support strong & beautiful hair, skin, & nails
Third Party Certified: Every batch of Nature's Gummies Multivitamin Gummies are third party certified for quality
Multivitamin Gummies by Nature's Gummies: Daily vitamins for adults men & women, extra strength adult multivitamins for immune support supplement, mens & womens chewable multi vitamin gummy supplements day plus men's b nature natures over multivitaminas gummie vitaminas hombres 40 50 women's best mutlivitamins vegetarian zinc