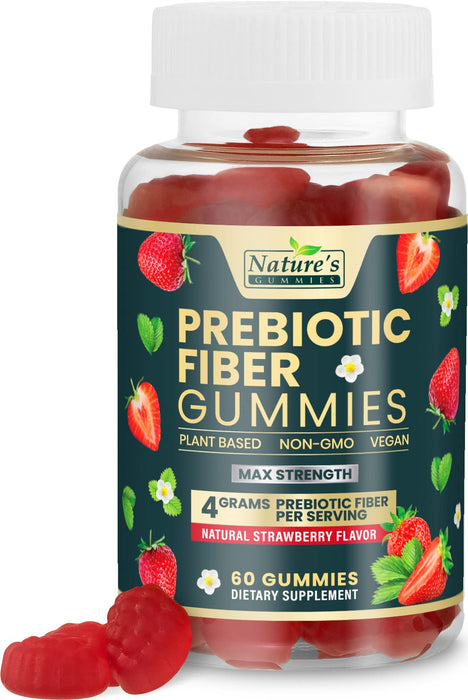 Sugar-Free Fiber Supplement Gummies for Adults - 4g Soluble Fiber per Serving - Natural Prebiotic Fiber Gummies Support Daily Digestive Health & Regularity - Plant Based & Berry Flavor - 60 Gummies
Nature's Gummies Fiber Gummies for Adults and Kids are the perfect way to add fiber into your daily life.
Unlike many powders, capsules, or vitamins, Nature's Gummies Fiber Gummies are plant-based, yummy and enjoyable. Made with 300mg of inulin fiber per 2 gummies, perfect for women, men, and children. Inulin is a soluble plant fiber that's present in high amounts in the chicory root. Inulin takes up a lot of room during digestion. Once eaten it absorbs water, helps to form stool, and allows you to go to the bathroom more easily. You will love this gentle digestion support.
Inulin (Chicory Root) - 300mg
Each bottle of fiber gummy dietary supplements is proudly manufactured and bottled following strict cGMP guidelines. Our Fiber Gummies are third-party certified for purity and quality by an experienced dietary supplement laboratory.
Sugar Free Fiber Gummies: Nature's Choice Natural Fiber Gummies are pectin based sugar free fiber gummies that support your overall gut health
Soluble Fiber: Soluble fiber is the part of plant based food that soaks up water as it passes through your digestive system and creates a gel to support your digestion
Digestion Support: Soluble fiber supports digestion by supporting the number of Lactobacilli in your gut
Third Party Certified: Every batch of our natural fiber gummies is third party certified for quality by an experienced dietary supplement lab
Sugar Free Fiber Supplement Gummies: advanced vegan gummy chewable chews for men women adults and kids daily dietary high fiber regularity and constipation support insoluble inulin husk keto natural nature natures choice nutritional pill pills powder prebiotic psyllium unique soluable soluble capsules super fiber supplements tablets